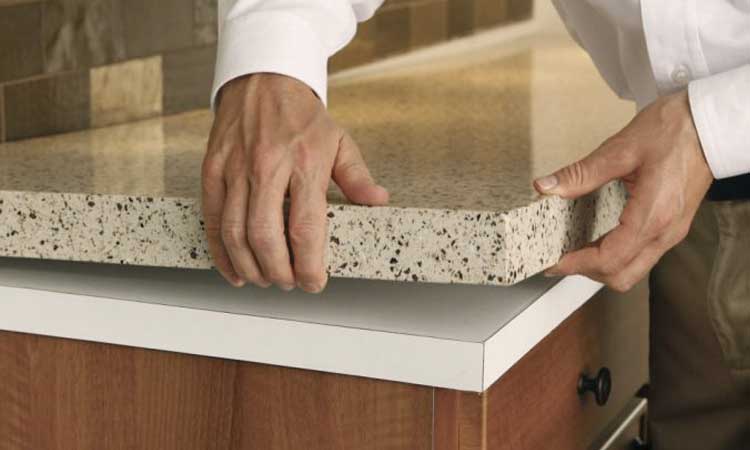 Professional Countertop Installation
Getting Ready for the Install Team to Arrive
Before our skilled installers pull into your driveway, there are a few things we need you to do:
Getting Ready for the Install Team to Arrive
Before our skilled installers pull into your driveway, there are a few things we need you to do:
Make sure there is a clear pathway between the job site (your kitchen or bathroom or basement whichever is the case) and closest entrance. Stone is heavy, so we try to minimize how much maneuvering the guys need to do while carrying the individual sections of countertop into your kitchen or bathroom.
If you have small children, for their safety, please make them not to come in the way of carrying the stone.
You may need to cover nearby furniture or article to protect them from dust, in case you have a cooktop cutout.
Home owner or their contractor (who can make decisions on behalf of the owner) need to be present during the installation process. Our install team will go over the details of the install and take an approval before leaving the site.
Professional Installation - Removing existing Countertops
our team will carefully remove them from the cabinets, trying their best to avoid any damage to the cabinet or wall. If you have laminate counters with backsplash, sometimes a bit of the wall plaster will come off with the old counters. Don't worry; usually your new granite or tile backsplash will cover up those marks. If not, they are easy to patch by your contractor.
Carrying Your New Stone across the threshold
Once MGM Solutions installers have made sure the space is ready, they will begin carrying in the individual pieces of granite. Since granite is a natural material and very heavy, most kitchens will have several sections of stone that will be expertly seamed together during the installation.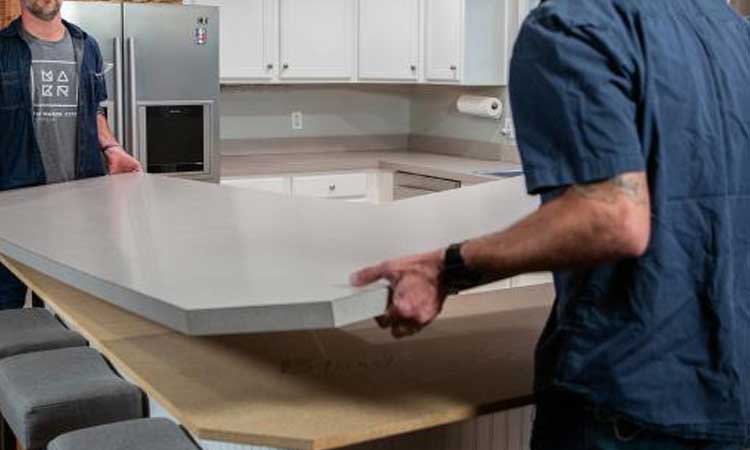 FREE COUNTERTOP DESIGN CONSULTATION
Get Professional Assistance Choosing Materials and Colors
Looking for a fast and accurate countertop estimate? Simply send us a sketch or blueprint of your countertop and we will quickly provide you with a no cost accurate estimate. Our design experts can help you choose the right material and color for your project.  Schedule your consultation or request an estimate today!
High-Quality Craftsmanship
Factory Direct Prices
Highest Quality Stone
Best Value Guaranteed
Reliable Customer Service
Unique & Exclusive Colors
Lifetime Warranty
Fast Turn Around Time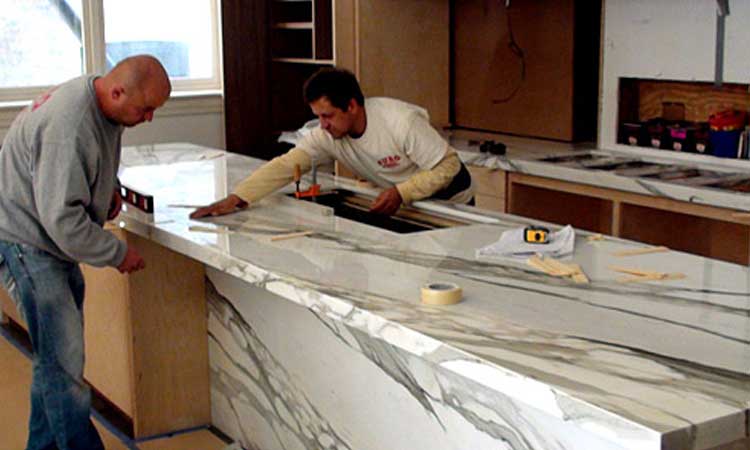 Professional Installation of Countertops
Once the cabinets are found to be within the permissible levels, our installers will lay the pieces of the granite in place on the counters. Then they will use an epoxy at the seams to cement the pieces of marble, granite, soapstone, or quartz to each other
.There are two types of epoxy: clear and a neutral color, which we color and blend onsite to carefully match your countertop color. As soon as the seams are dry, they will carefully skim off excess epoxy with a razor blade to ensure the seam is as smooth as possible. Then the granite will be further secured to the cabinet with onsite prepared attachment blocks called 'bondo blocks'.
It's important to note here that no wall is perfectly straight, not even in brand new homes. We capture the imperfections by our digital templating system while measuring your countertops and scribe the backside of the granite counters to match the imperfections of the wall.
How Long It Takes from Start to Finish of Granite Installation
 It depends on the size, complexity and number of cutouts of the job. For smaller and simpler kitchens may take about 2 to 3 hours and large and complex kitchens may take 4-6 hours.
Stone Countertops MN
Are You Ready To Get Your Project Started?
It only takes a few seconds to set up your FREE consultation!
Start Here...