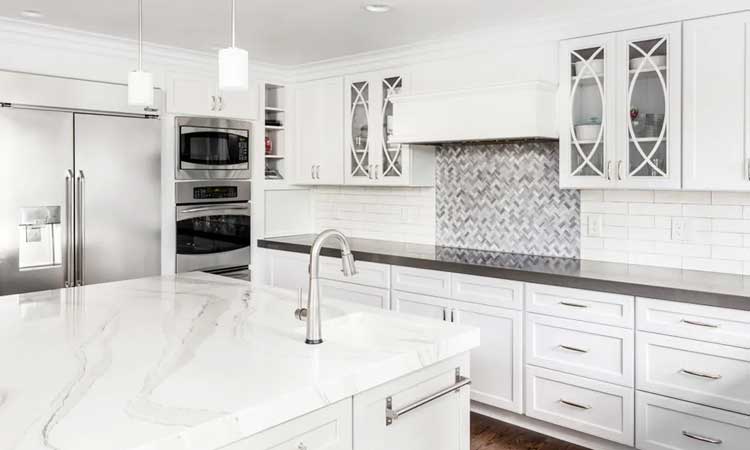 Quartz takes any kitchen Countertops or bathroom countertops to the next level of attractive elegance. One of the toughest countertop materials available, quartz will deliver decades of durable service while maintaining its beauty.
One of the most appealing features of quartz kitchen and bathroom countertops is that they are available in many colors from bright to black with a spectrum in between of creams, browns and grays. This is because they can be enhanced with colorant to produce nearly any hue you can imagine while offering the look and feel of natural stone.
In this countertop guide, you'll find information including pros and cons of quartz countertops that will help you decide if they're the best choice for your home. It will also be helpful to see our countertop guides for granite, marble and other materials in order to compare them head to head.
Quartz What you should know?
Quartz countertops differ from granite and marble countertops in one significant way: quartz is an engineered product while the other two are solid stone. The composition of quartz countertops is about 93 percent quartz, a natural material found in abundance in the earth's crust, and 7 percent binder and color.
The quartz is ground into small particles and then mixed with a polyester resin binder to hold it together and with pigment to give it richer color. Small particles of glass or reflective metallic flakes are added to some designs to achieve a unique look. The result is an attractive, extremely strong slab that is similar in appearance to marble.
In addition to lustrously polished finishes, quartz counter tops are available that duplicate the matte finish of limestone, the textured finish of granite or the gloss of highly polished stone. As an engineered product, they can be produced in far more options than natural stone countertops. When you go shopping for quartz countertops, you'll find options to fit any design and the color scheme you're planning.
Are Quartz Countertops Right for Your Home?
Consider these questions as you evaluate quartz alongside the other materials you're considering.
Is the higher cost of premium quartz in the budget? While there are discount grades of quartz offered by some manufacturers, you'll get the best looks and performance from high-quality quartz countertops made by DuPont, Silestone, Caesarstone, Cambria and other top brands.
Is a move in your near future? You'll get the best value from quartz countertops if you plan to stay in your current home for 10 years or more. If you move, the quartz will make your home more appealing, but you might not recoup the total cost in the form of a higher sale price.
Are you willing to pay more for countertops that are very low-maintenance and extremely durable? If so, you can't go wrong with quartz. Clean-up time and effort are minimal.
Do you have kids that leave a mess behind in the kitchen? Where this is common, quartz is a better choice than granite or marble, both of which are susceptible to staining. Quartz is very stain-resistant.