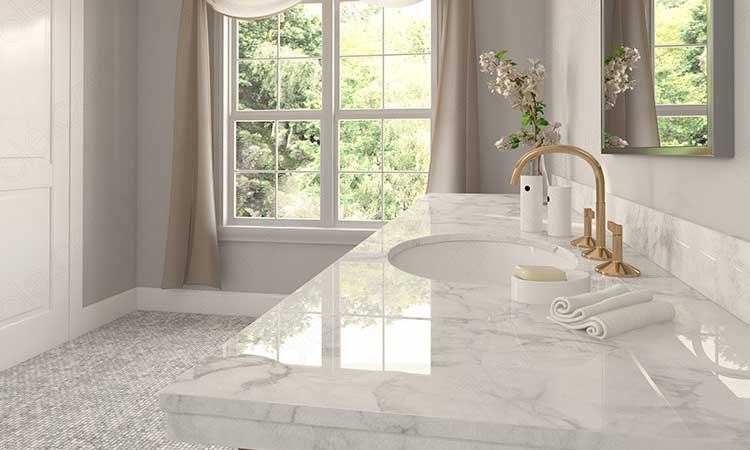 Choosing The Right Bathroom Countertops
Granite and marble. In a master bath, it pays to install granite or marble, which attract buyers at resale and give the vanity top a rich, sleek look. And with affordable "grades" of granite available on the market today, you don't have to empty your wallet for this feature. You will, of course, spend more on granite than laminate, but the result is a surface that can handle heat and wear. Be advised: granite must be sealed to repel grease (which you could run into in hair products and such). Marble stains easily, while granite stands up to most stains.
Marble Bathroom Countertops
Marble: A heavily veined metamorphic stone, marble is one of the most beautiful of all natural stones, available in an almost infinite variety of colors and patterns. Marble is a relatively soft, porous stone that needs to be sealed every year or two. Solid slab marble countertops are elegant and unmatched by other countertop materials. Most natural stone requires period sealing and more maintenance when compared to ceramic tile and engineered stone.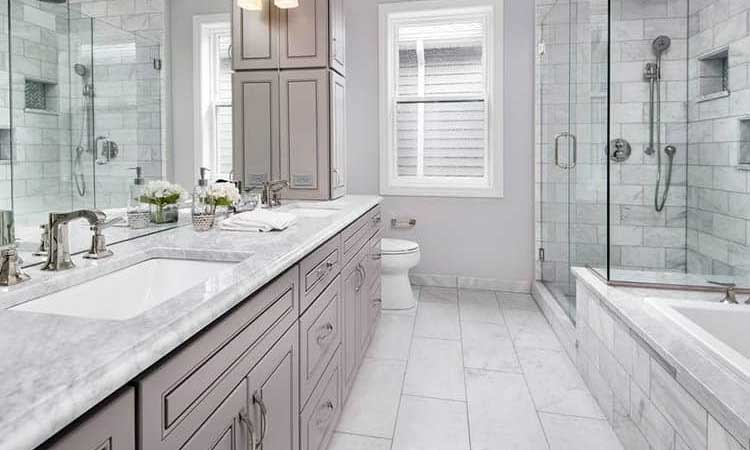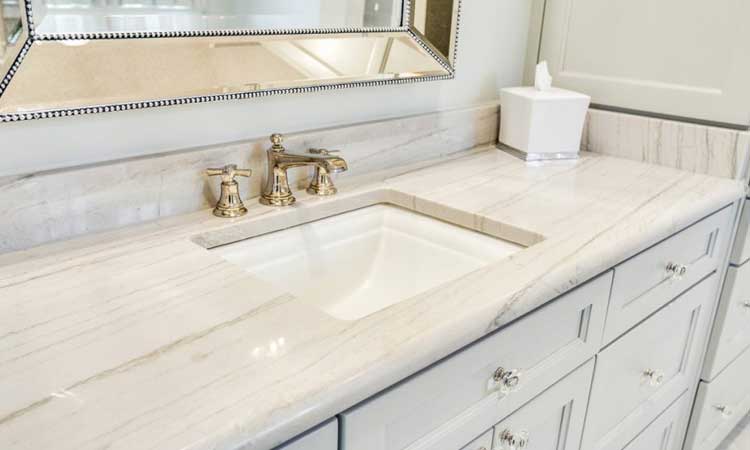 Quartz Bathroom Countertops
Quartz countertops are not solid quartz but are instead an engineered stone product made from about 90 percent ground-up quartz and other stone minerals, blended with resins and pigments and shaped into countertop slabs. A variety of styles are available, some of which are nearly indistinguishable from natural stone slabs. These countertops are often sold with integrated sink basins built into them. Major manufacturers of quartz countertops include Dupont Zodiaq and Cambria.
Granite Bathroom Countertops
Bathroom countertops are available in more shapes and materials than ever before. Modern cutting and fabrication techniques mean that anything is possible, in any size. From good old formica to space-age recycled glass, there is a perfect surface for any bathroom. Granite, the dense rock produced by ancient volcanos, has become one of the preferred substances for countertops. They quarry the rock from a mountain, cut it in the shape you specify, and ship it to you. Granite can be cut in any dimension and stained in nearly any color. Thousands of satisfied customers find them to be the perfect accessory for their modern homes.